1 Company Driver Trucking Jobs in Hawaii
Hawaii
Sweet Express
- Hawaii
Drive a SWEET Truck! OTR Positions - Kenworth, Freightliners, Internationals - Benefits Day 1 - $75k+ Annually - Sweet Express LLC has been in business for over 20 years and is seeking professional Class A drivers to join our fast growing fleet! We take pride in demonstrating integrity, honesty, respect, and dependability! We are a company that believes in second chances - SAP Applicants considered! SOLO OTR POSITIONS: * 2,700 - 3,300 miles per week on average * Home Time: 2 weeks out and 2-3 days home * Runs the lower 48 states * Competitive Wages starting at 54CPM and up depending on application - Per Diem * All Solo Driving Positions * Dry-Van - General Freight - 99% No Touch - 70-80% Drop and Hook * 500 mile minimum on a loaded move (excludes local and dedicated) Equipment: Kenworth T680s, Freightliner Cascadias, and Internationals. * Layover/Breakdown Pay: $100 per day after 24 hours. * Detention Pay: $15/ hour after 2-3 hours depending on the load. * No forced dispatch to NYC. * Pet Policy: 1 dog with a $400 pet deposit ($50 deducted weekly until deposit is met) * Rider Policy: 1 rider - must be at least 9 years of age - $40 per month for insurance purposes * Benefits Start Day 1 of Hire. * Vacation Pay REQUIREMENTS: * Must have 3 months of recent and verifiable CDL-A tractor-trailer experience pulling 53' trailers within the last 12 months. * Must be able to drive a Manual Transmission truck * Must be able to pass a road test, physical, and drug screen. * Must have a valid Class A license and medical card * Application must show the last 10 years of Class A work history, and all employment and/or unemployment in the last 3 years. OWNER OPERATORS (Don't own a truck? Ask about our Lease Purchase Program!) * Paid 80% gross of each load and includes Cargo Insurance and Trailer Rent * Pick and choose your loads and decide when you go home * $6,000 Sign-on bonus ($1,000 paid per 10,000 miles; paid in full at $6,000 / 60,000 miles) (new hires only) * Plates (IRP) provided at no expense until the next renewal date (new hires only) * Fuel reimbursement for driving up to orientation - processed after 30 days of employment. INTERESTED IN LEASING A TRUCK? Email for more information or give us a call! Sweet Express LLC  Recruiting Office: Office Hours: 8-5 EST, Monday - Friday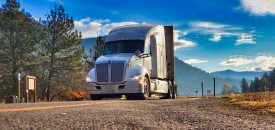 Learn More!
Truck Driving Jobs in Hawaii
Truck driving jobs in Hawaii will increase over the next decade as the demand also grows for transported goods as our economy boosts. Being a truck driver in Hawaii is extremely rewarding, pays generously, and offers many chances to see the open road and beautiful landmarks. Being a company driver is perfect for those fresh out of driving school because you will be able to experience all aspects the truck driving job industry has to offer and see which one fits you. While searching for truck driving jobs in Hawaii keep in mind being able to visit Hawaii Volcanoes National Park, the Diamond Head State Monument, Waimea Canyon and many more! Truck companies across the nation are constantly searching for dry van, dry bulk, and reefer drivers; no matter how bad the economy, there will always be loads that need to be delivered!
What to expect in a Hawaii truck-driving job
The salary of a company driver job in Hawaii can range anywhere from $40,000 to upwards of $70,000 a year, depending on the type of driving, experience, and endorsements. Company drivers, unlike owner operators, have the option to work a local, regional, or over-the-road run. Larger companies also give drivers the freedom to switch the type of run they want to do. For example, a driver has been doing local runs for a few years but is ready to go over-the-road; that driver just needs to apply for the position, they do not need to seek employment elsewhere.
However, be conscious that the background checks can be very time consuming. Previous employment must be verified along with your driving record from the Bureau of Motor Vehicles. Additionally, each company you worked for must provide a DOT report from either human resources or the safety department. Companies seeking to hire drivers also need to be aware that they will most likely have to undergo a physical exam prior to driving. All of these things could take a few weeks from the day you apply until you are offered a position.
What to expect in a company driver career:
You pick your route; local, regional, or over-the-road
Working with a company provides steady work; owner operators may have to wait on contracts
If there are certifications or endorsements needed, sometimes a company will pay for it
Being a company driver means you are eligible for bonuses
You are not financially responsible for repairs and maintenance to the truck
Types of Endorsements
In order to land a Hawaii truck-driving job, you must begin by training to get your CDL. Truck driving training can be done in as short as 4-6 weeks. Depending on what kind of company driver job you want, you may need more than just your CDL. Here is a list of common endorsements:
HAZMAT (Hazardous Materials Endorsement)
Doubles/Triples Endorsement
Tanker Endorsement
Air Brake Endorsement
Keep in mind that other certifications may be necessary to haul certain items.
Helpful Links
If you have specific questions, call your states Department of Transportation or visit their website. Here are a few other helpful links for CDL and other information:
Get yourself the financial freedom and professional independence you know you deserve and start your new career as a company driver today!