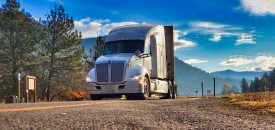 Truck Driver in Altoona, PA
Solo Drive
Lease Purchase: No
CDL OTL Driver Trainer Altoona, Pennsylvania $10,000.00 Month. Hotels Provided. Benefits.
CDL OTR DRIVER TRAINER WANTED IN Altoona, Pennsylvania
Live anywhere in the US. When you're ready to head back home for a break, we'll get you back!

You'll be training in 2021 Trucks.

Full Benefits on Day ONE.
$5,000.00 SIGN ON BONUS.
When Training a driver, We cover Hotels.
Up to .60 CPM + $450.00 per Weekly Salary.
An Additional $450 Bonus when Driver is fully trained.
***$2,000 - $2,500: DRIVER TRAINER OTR  WEEKLY AVERAGE WHILE TRAINING DRIVERS.***
DRY VAN - NO TOUCH - OVER 70% DROP & HOOK
Average 2,700 - 3,300 miles a week
Paid for 500 miles minimum on a loaded move (excludes local and dedicated)

ADDITIONAL PAY
Vacation Pay - Stop Pay - Layover Pay - Breakdown Pay - Detention Pay
Paid Clean Inspections

$1,800.00 Driver Referral Program: $300 per month for up to 6 months (Must have referrer's full name on application for referrer to be eligible).

BENEFITS
Health, Dental, Life, Supplemental, 401K.


SUPPORT
24 Hour dispatch - No forced dispatch into NYC
ELD SYSTEM - SAMSARA

NEW 2021 TRUCKS
KENWORTHS - - - FREIGHTLINERS - - - INTERNATIONALS
REFRIGERATORS - APUs - NITE SYSTEMS / INVERTERS - ELITE PASS68 ON THE PEDAL & 72 ON CRUISE!

PET FRIENDLY
We are also in need of OTR Truck Drivers. Reginal Truck Drivers. Driving Teams. All Dry Van.
New Drivers Welcome to become drivers (Not Trainers).
Limited Experience Drivers Welcome - We fully Train You.

We'll get you back home to Altoona, Pennsylvania when you're done with your run.

OTR Truck Driving in Altoona, Pennsylvania
Regional Truck Driving Job in Altoona, Pennsylvania
Lease/Purchase Semi Trucks in Altoona, Pennsylvania
Best Paying Trucking Company in Altoona, Pennsylvania
Best Place for New CDL Drivers in Altoona, Pennsylvania
Altoona, Pennsylvania OTL Driver Trainer. Best Pay. Pet Friendly. Best Benefits. Home Regularly.  New Trucks.
Solo
Dry Van
Sweet Express's Benefits
Lease/Purchase Available

Training Available

Types of Runs

Details

Time Away from Home

Details

Rider Program

Details

Pets

Details

SAP Friendly

Details
Cost Driver Benefits

Details

Medical

Details

Dental

Details

Vision

Details

Retirement

Details
Lay Over Pay

Breakdown Pay

Extra Pickup

Details