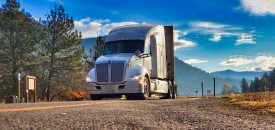 Truck Driver in Aberdeen, SD
Solo Drive
Lease Purchase: No
OTR Driver Trainer Aberdeen, South Dakota 56 CPM + $450 Weekly Salary +More
Sweet Express, LLC 
DRIVER TRAINER OVERVIEW - SAP APPLICANTS ACCEPTED

Are you ready for the next step in your career? Join Sweet Express and become a driver trainer! Competitive Base Pay (CPM) starting at 50CPM and up depending on experience- 
+$450 weekly flat rate
+$450 per trainee passing the training program
 Average $2,100 - $2,600 per week!  
All Dry-van, no touch freight

70-80% Drop and Hook

Run all 48 states

Required to be out for 6 weeks per trainee

Average 2,700 - 3,300 miles a week

Benefits begin on Day 1 - no waiting periods! 

Paid for 500 mile minimum on a loaded move (excluded local and dedicated)

Picking up a load Friday in Michigan for a delivery on the East Coast? Get paid an extra $100! (PA, MD, NJ, EAST NY, WV, and DE only)

24 Hour dispatch
KENWORTHS - - - FREIGHTLINERS - - - INTERNATIONALS
Refrigerators - APUs - NITE Systems - Inverters - Elite Pass (weigh stations and tolls) 
68 on the pedal and 72 on the cruise!
User-friendly ELD system, Samsara!  
PERKS:
Vacation Pay - Stop Pay - Layover Pay - Breakdown Pay - Detention Pay 
Rewarding Driver Referral Program: $300 per month every month your referral is employed (Limit of up to 6 months for a total of $1,800) 
Call today with any questions you may have at Ext. 155 and ask for Nick! 
Sweet Express's Benefits
Lease/Purchase Available

Training Available

Types of Runs

Time Away from Home

Details

Rider Program

Details

Pets

Details

SAP Friendly

Details
Cost Driver Benefits

Details

Medical

Details

Dental

Details

Vision

Details

Retirement

Details
Lay Over Pay

Breakdown Pay

Extra Pickup

Details