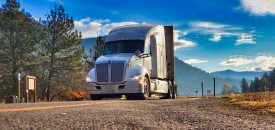 Owner Operator in Louisiana
Solo Drive
Lease Purchase: No
Hiring OTR Owner Operators in Louisiana
Current Offerings:  
All Dry-Van, No Touch Freight, and 70-80% Drop & Hook.
Average 2,700 - 3,300 miles a week.
$5,000 SIGN ON BONUS
1st payout $1,000 @ 10,000 miles
2nd payout $2,000 @ $30,000 miles
3rd payout $2,000 @ $30,000 miles

PAY:  ~~Earn extra .11CPM  on top of base pay!~~
Paid weekly via direct deposit or paper check.
WEEKLY BONUSES (April through October Only):
+4CPM after running 1,800 -  actual miles for the pay period.
+3CPM after running 2,500 actual miles for the pay period (Tuesday through Monday). 
MONTHLY BONUSES:
Earn an additional 4CPM by running 12,000 miles in a month! (2CPM Mileage, 2CPM Safety).
Paid for 500 miles minimum on a loaded move (excludes local and dedicated.)
Picking up a load Friday in Michigan for a Monday delivery in PA, MD, NJ, EAST NY, WV, OR DE. Get paid an extra $100! 
OPERATION:
24 Hour Dispatch
Run All 48 States!
14 days out and 2-3 days home!
No forced dispatch into NYC.
No Hazmat, Canada, or Mexico. 
EQUIPMENT: 
(2015 - 2021) Kenworths, Freightliners, and Internationals.
All trucks will have either an APU or NITE System/Inverter.
Refrigerators in all of our trucks.  
User-friendly ELD system - Samsara
Elite Pass (weight stations and tolls)
PERKS:
Benefits start Day 1 - No waiting periods!
Vacation Pay.
Paid Clean Inspections: Level 1 = $200, Level 2 = $100, Level 3 = $50.
Stop Pay: 1st = $30, 2nd = $40, 3rd = $40, 4th = $40, 5th and any additional stops = $50.
Detention, Layover, and Breakdown Pay. 
Pet/Rider Policy available. 
Rewarding Driver Referral Program: $300 per month for up to 6 months (Must have referrer's full name on application for referrer to be eligible).
***Owner Operator? Send us a message or give us a call for more information!***
Sweet Express's Benefits
Lease/Purchase Available

Training Available

Types of Runs

Details

Time Away from Home

Details

Rider Program

Details

Pets

Details

SAP Friendly

Details
Cost Driver Benefits

Details

Medical

Details

Dental

Details

Vision

Details

Retirement

Details
Lay Over Pay

Breakdown Pay

Extra Pickup

Details